Set out below is an excerpt from our December 2016 quarterly update to investors.
Please note that the information is suitable only for wholesale investors, as defined by the Australian Corporations Act.
Outlook for 2017
First we discuss the macro outlook and then how the portfolio is positioned.
In summary we believe the fund should have a very strong 2017. It's the latter stages of the bull move and that is usually where the earlier stage investments should move, as the big caps are fully priced and investors look around for other value. Also, confidence is high and, accordingly, investors look for other investments.


Macro outlook
Increasing fiscal stimulus, positive global growth and low but climbing commodity prices should see markets and resources continue to move higher.
The US Dollar has also been very strong; consensus is that it's too strong. We believe it will see a pullback during 2017, which should be bullish for commodities and gold and emerging markets.
The commodities rally will strengthen the expectation that inflation is coming (assisting gold). This should spike yields higher, leading to possible problems in 2018 and ultimately yields coming back down again. We do not believe the deflationary cycle is over (more on this below).
Historically, initial moves up in US yields have seen markets move higher because the view is growth is increasing. Also, funds flow out of the large bond market (the US bond market is estimated to be up to twice as large as the US equity market), bonds fall in value as yield rises, and some of these funds move into equities.
However, as yields get more attractive and the higher yields have a more negative impact on company profits and disposable income then equity valuations fall. Because markets like to pre-empt this occurring, markets can often fall before this actually occurs.
What could change the above is the USD continuing to rally, this would put strain on gold and commodity prices. However, a rising USD does not mean commodities still can't rally, but would assist to contain a rally.
2017 should see the concern of inflation returning. Strong property prices, PMIs rising in Europe, business and consumer optimism rising in the US and China's economy still growing near 6.5%; these factors, together with strong commodity prices, should see inflation concerns.
However, we believe this is just the first phase and that it's too early for sustainable inflation to return. There is still too much surplus capacity, especially in China, and the increases are being fuelled by stimulus and low rates.
China's growing pollution concerns, driven by public unrest should see more pressure on the government to shut uneconomic miners which should also assist resources.
Trump. There are a lot of questions over what the new US president's impact on the economy and the markets will be. We highlighted last month that his stimulatory policies should be positive initially. Let's see what one of the world's most successful investors is saying…
Ray Dalio (Chairman and Chief Investment Officer of one of the world's largest hedge funds) is worth around $16 billion personally. He is a very astute investor and has written some excellent macro pieces. A recent article from him states:
"This particular shift [to an environment that makes profit makers heroes] by the Trump administration could have a much bigger impact on the US economy than one would calculate on the basis of changes in tax and spending policies alone because it could ignite animal spirits and attract productive capital. Regarding igniting animal spirits, if this administration can spark a virtuous cycle in which people can make money, the move out of cash (that pays them virtually nothing) to risk-on investments could be huge."
(The article is written up at the rear of this investor update).
Business sentiment in the US is improving rapidly and is now the highest it has been for years.
Numbers / statistics
It is often said, "how goes January how goes the year". The data suggests January is a good predictive tool. Looking at the first five days of trading for January the results are pretty compelling. Using 1973 as the starting point for the S&P 500, we find that in only six cases when the S&P was up during the first five days, did the market end lower for the entire year. Those years were 1973, 1990, 1994, 2002, 2011 and 2015. So when stocks start strong, they end strong.
When we look at the whole of January the results are even stronger. Again, starting with 1973, there is only one year where January was up and the year ended down, and that was minor, 1994 being down 1.4%.
Technically
Market cycles and sentiment we have found over the years to be a pretty powerful tool. They helped us call the last major bear move, 2008/09 and helped us call the bottom of the market in 2009 within days of it occurring. Using similar tools now our current thoughts are:
We believe that US equity markets (which have a strong influence on the ASX) are in the latter stages of this bull move. Bull moves generally end in one of two ways. Either:
i) A blow-off – excitement (which current policies and Trump could help bring), an acceleration up in indexes and a move into higher perceived risk investments including smaller emerging companies as confident investors search for more gains. These tops usually form quite quickly – over a couple of months (eg 1987 or 1929). or
ii) A large distribution top that takes a long time to form, such as 2007 which was around 6 months of distribution or 2000 where that distribution lasted closer to 12 months as investors changed the sectors and stocks they invested in causing the major indexes to vacillate before finally turning down.
At this stage we believe the next top is more likely to be of the blow-off type. That should see markets push higher in 2017, but with some volatility in 2017. The move higher will bring confidence to investors and should see more investing in smaller companies and higher perceived risk investments.
Once the volatility starts to become too high it is an initial sign of distribution and a time to get more cautious.
Please note; it is far too early to say the above is certain and the way ahead should become clearer if a top does occur (as evidenced by increased volatility, more divergences and other signs). However, it is an early stage 2017 Roadmap which we have in mind.
At the moment, US sentiment has reached extremely positive levels, which may lead to some near term selling. Bull trends can see positive sentiment stay for extended periods.
Portfolios
In the above environment the TI portfolios should perform very well. Accordingly, we are looking for a very strong year in 2017. As liquidity comes back into these investments and they push higher we will use that higher liquidity and strong move up to exit and move into cash or more liquid investments (which we can sell quickly if the market changes direction).
If we then see a clear top forming in late 2017 or into the first half of 2018 we will also look for shorting opportunities. This is our current strategy to employ for 2017/18.
It is not only the macro environment that we see as positive in 2017, it is also many of the stocks in the portfolio themselves.
Many of the funds' investments are moving into cash generation in 2017. We believe this should also re-rate those investments as that occurs. Others have meaningful catalysts occurring. In this environment we would expect those moves up to be quite fast and driven by strong buying interest.
Sectors of interest
The above comments suggest that resource exposure should yield favourable results. We are also expecting certain metals to come back into favour, such as rare earths and uranium.
Areas that have been out of favour for many years may see some interest returning in 2017. Commodities associated with new technologies and electric cars should continue to perform well. We see commodities such as copper also improving.
The chart below would also tend to support the argument that the resources cycle is at a low point.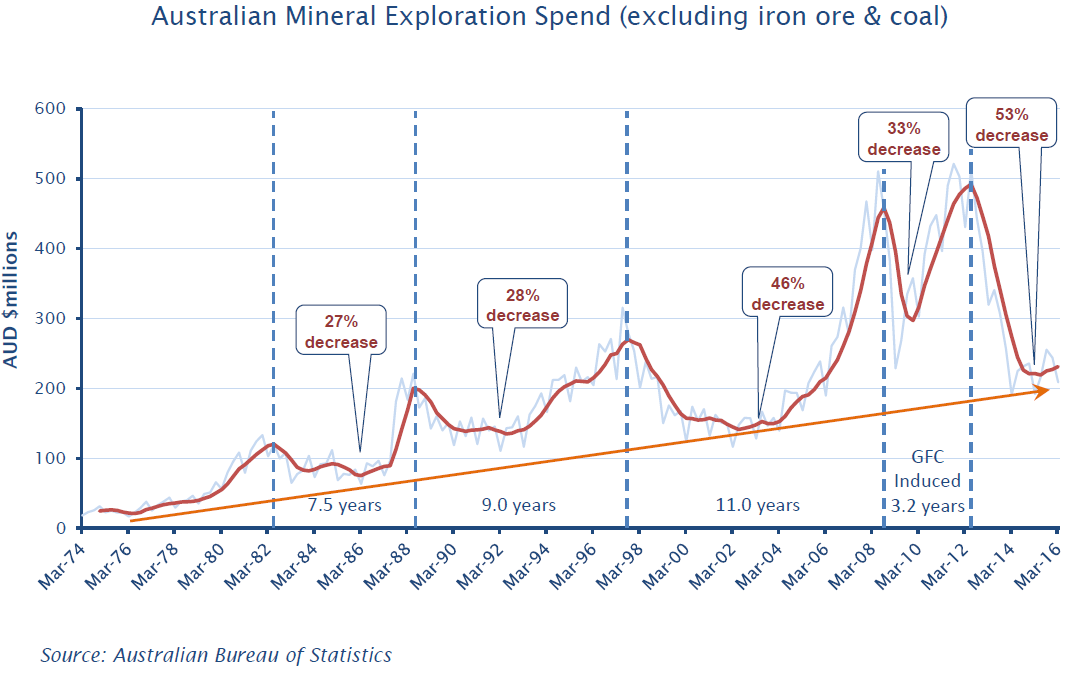 Australian Mineral Exploration Spend (excl. iron ore and coal)
Gold is starting to look interesting again with some very large pullbacks occurring in this area. We see gold as an area that can perform later in 2017 as inflation concerns rise (though again this maybe USD dependent to some extent, i.e. a strong USD may hold it back for a while).
___________________________________________________________________________________________
The information herein is believed to be reliable, however may not have been verified by TI. TI assumes no responsibility for errors, inaccuracies or omissions in this document. The information contained in this document is general in nature and has no regard to the specific investment objectives, financial or particular needs of any specific recipient. The Directors and/or staff of TI and/or their associates may have a personal interest in securities mentioned in this report. Please note the information and opinions contained in this newsletter are not investment advice and should not be construed to be a recommendation to buy or sell the Technical Investing Absolute Return Fund, securities, commodities, currencies or financial instruments referred to above.
Images on this page: Bellingen Landscapes / Photos: Gethin Coles courtesy of Bellingen Shire Council