Set out below is an excerpt from our December 2019 quarterly update to investors.
Please note that the information is suitable only for wholesale investors, as defined by the Australian Corporations Act.
This quarter we are looking at the overall market and our Roadmap for 2020 as the year commences.
Please note our roadmap is intended as a guide for us; enabling us to check our positioning and to see whether there are changes we need to make. We are, in the main, individual stock investors. We have found over the years though that our roadmaps have been quite accurate and are a very useful tool, particularly at major inflection points. Our views can change quickly should the indicators, numbers or analysis change. Accordingly, the roadmap can and most likely will see some changes as the year develops.
Recap of the TI 2019 Roadmap
At this time last year, markets were very different. Major market indices had just seen 20% falls; there was some panic and heightened levels of fear. In fact, the CNBC fear index was measuring 4 out of 100 (extreme fear) in late 2018 against today's 91 (extreme greed). Some major stocks had seen 30-50% falls and many investors were calling the end to the bull trend, predicting that the US and other countries were heading for a recession in 2019 or 2020. Things can change a lot in 12 months.
The 2019 "TI Roadmap" proved quite accurate. At the time we disagreed with the view of many regarding a pending recession. We said, "On current data the US should not see a recession in 2019 or 2020, and possibly not for years".
We expected to see the first half of 2019 rally and then probably a selloff in the second half to put in a final low before the next leg of the bull market commenced.
In our June update we said whilst our first half call was very accurate we are not confident in the second half call… i.e. there may not be a second half sell-off, although volatility was likely to increase and it would come down to individual stocks and sectors. Therefore, we were happy to stay fully invested.
This was reasonably correct – most of the gains were in the first half with the second half a little stronger than expected. The All Ords Accum Index gained 24% for the calendar year with a gain of 19.8% in the first half and 3.4% in the second half.
The Australian Emerging Company Index (XEC) was stronger, up 28.8% for the year (18.1% in the first half and 9.0% in the second half). The US SP500 was up 28.8% for the year (17.3% in the first half and 9.8% in the second half).
Importantly, whilst 2019 was a very strong year, it must be remembered that it followed a crash in the 2018 December quarter. Many markets are only a little higher now than they were at their peak in 2018 – some are still below their 2018 highs. Also notable is that the US Fed was in Quantitative Tightening mode in 2018, then in 2019 moved to aggressively lower interest rates – they are now in Quantitative Easing mode; this is a strong contributor to our bullishness for 2020.
One year ago, we liked the commodity sector, however felt we were probably still too early; cyclical work suggested a late 2019 to early 2020 bottom for the commodity complex. So that is now. This remains our view and there is more on this below.
TI 2020 Roadmap
Roadmap Summary
Short term, markets are overbought and show signs of too much confidence. We think that should lead to some sort of pullback in Q1.
Any pullback though will be bought into as this bull trend is not over, in fact it may accelerate up.
2020 will see increased volatility and more 5%-odd corrections, particularly later in the year. However, it will be another good, positive year. In the right stocks and sectors, it should be a very good year.
Market valuations are high but not excessive for the current low interest rates and are quite capable of moving higher.
US and global manufacturing is close to recession levels but we expect this to improve. US Consumer sentiment is the key. A notable reason the Fed has been cutting is to keep US consumers confident.
Ends to bull trends tend to see a lot of euphoria, excitement and "the taxi driver" talking about how much money they made trading shares. We remember this happening Christmas two years ago with Bitcoin and crypto currencies. We are yet to see this for the current cycle.
What could lead to a strong 2020? A large amount of fiscal stimulus and further balance sheet loosening by the Fed and other countries i.e. Quantitative Easing (refer charts and commentary below). This has been accelerating again over the past few months. With the catastrophic fires seen in Australia, we expect to see the government drop its goals of budget surplus and tight fiscal policy, and provide meaningful stimulus in Australia as well.
Base metal commodity prices to turn up. Resources and select resource companies to perform well.
US dollar looks vulnerable for a fall.
2020 is a US election year, so volatility is likely, but Trump knows he will get back in only if the economy and share market are performing. Stimulus should continue. For the past 100 years, no president has lost re-election if the economy is expanding.
More sector rotation should occur as we move into late cycle investing.
Longer-term there are some major issues brewing with government debt levels growing and slowing GDP growth. However, we don't see this as being a problem for the markets until 2021 and thereafter. In the next recession, the US market is likely to dramatically underperform and the USD should see a sizeable fall.
At the moment our analysis would suggest a market rotation into cyclical stocks, a blow-off (strong uptrend) in the market, then the raising of rates to bring in a US recession late 2021 and into 2022. Actions by governments and central banks can shorten or extend this cycle so we need to be watchful and amend our roadmap as we go.
Some outliers that we may These go against consensus but are worth watching for:
Inflation – this is a tough one as it has been absent for so long. Technology and globalisation has had downward pressure on prices. Inflation does take time to build, you need to see wage pressure to see it really accelerate and that might be some time away. However, we wouldn't be surprised if later in 2020 and into 2021 we start to see some early inflationary signs, this would surprise many.
Interest rates – we may have seen a near term low in interest rates overseas. They should stay low for some time, as interest rates follow growth and we are yet to see growth pick up. However, in late 2020 or into 2021 we may see more upward pressure than the market is thinking about today. Negative interest rates in Europe are not working and we may see this start to unwind.
If the above proves correct and the economies start to surprise on the upside, initially rising rates will be seen as a positive, as they are due to stronger growth, however, with time, and higher rates they will have a large negative impact. This could occur in 2021 or later depending on how the central banks act.
There is a thought by some that 2019 and 2020 may be similar to 1998 and 1999. Supporting that view are manufacturing PMI movements and Fed rate cuts. This may suggest a strong bounce in PMIs and an economy which surprises on the upside.
Recent announcements regarding the US-China trade deal could play a part in such a scenario.
When working out our macro roadmap we concentrate quite a bit on US markets even though our investments are generally in Australia. Why is that?
The US equity market dominates global investing. Its shares are multinational and also pick up on major global trends. It sets trends and turning points. If we wake up and the US is down 20% then it is highly likely the ASX will have a similar move. Additionally, there is just so much more analysis and data available on the US. Both mean we favour US analysis to set the trend which impacts Australian equity markets.
Roadmap in More Detail
Presidential Cycle – Since 1871 markets have gained in 35 presidential election years and gone down in 11. Since 1948 there have only been 2 down years, 2000 and 2008. The 4th year of a president's term is on average the second-best year (the 3rd year being the best).
One thing that was very surprising in 2019 was that even though equities were strong, there was uncertainty; a lot of money left equities and went into bonds and cash. We think this is actually a contrarian bullish sign for equities (and bearish for bonds) as this money will actually come back into the market before we reach the ultimate high.
The chart below illustrates the point from above:  global ETF flows show that there has been money flowing out of equity ETFs (exchange traded funds) and flowing into bonds (bond prices up mean interest rates down).
This and other factors could really see the equity market get squeezed higher, as money comes back into equities, especially in cyclical areas (such as resources).
ETF flows by year, showing funds moving out of equities in 2019 [Bloomberg]
Ultimately, markets move on earnings growth and valuation of future growth which is heavily impacted by interest rates. We discuss these later. The other factor is sentiment, how people are feeling.
Sentiment measures are somewhat useful most of the time. However, at extremes, they are very useful, and as an exact timing tool particularly at bottoms.
Fear is a much stronger emotion than greed. Therefore, when all the indicators indicate extreme fear, a low is usually very close (we used this well at the GFC low and again in December 2018). The greed indicators are useful, but not as accurate in timing. Extreme greed can last for quite some time and can get worked off by consolidations and pullbacks, allowing markets to rally again.
There is a group out of the US called Sentiment Trader. We have been subscribers to their research for over a decade. They have some good indicators to measure sentiment in various markets.
Sentiment Trader use investment flows in certain markets to determine the sentiment of traders in those markets. Some markets have a good record of predicting future movements (eg. OEX put/call and open interest ratios) while others have a very poor record (eg. Equity-only put/call ratio and flows to/from Rydex mutual funds). Flows from these good and bad predictor markets, and what they imply about the future, have been labelled "smart money confidence" and "dumb money confidence".
The concern is at the moment the "dumb money" confidence is very high at 85%, where as the "smart money" is very low at 25%.
Confidence – "smart money" and "dumb money"[Sentiment Trader]
This analysis is much better for timing lows than highs, as bullish sentiment can linger for a long time. Nevertheless, it is one reason we think markets are stretched in the near term and we wouldn't be surprised to see a pullback in Q1 (whilst noting individual stocks also work to their own rythyms).
The following chart shows another measure of sentiment. Sentiment does seem frothy at the moment. The chart also shows that sometimes it doesn't take long to work off that positive sentiment, which is one reason why we think dips will be bought.
Investor bullishness (top line) and US markets (bottom line) [WSJ]
Another concern is the number of new IPOs occurring that are losing money, a sign of euphoria- see chart below.
This indicates that there needs to be caution and that we may start to see a rotation away from some of these areas (mainly unprofitable tech companies) into other areas.
Proportion of US IPOs that are lossmaking (excluded: IPOs below $5/share, funds, ADRs, SPACs, REITs, partnerships and bank stocks) [Uni of Florida / WSJ]
The S&P500 is now 10% above its 10 dma (day moving average). That is unsustainable. Technology stocks have been driving this with AAPL now 40% above its 200dma. Another sign the market is overstretched near term.
With these signs and excessive bullish readings it really suggests that at any point in Q1 markets should see a sharp bout of selling before resuming the bull trend.
Whilst market multiples are high (see chart below) we do not yet believe they are at levels that would in themselves cause a bear market and, in fact, with interest rates where they are still could go quite a bit higher.
S&P500 Forward PE (price to earnings)
Corporates are still borrowing huge sums of money at very low interest rates. Last week alone in the US, blue-chip companies sold almost $62 billion of bonds, to take advantage of low borrowing costs.
Key to US and global growth is…..  The US Consumer!
US consumers are 70% of the US economy and represent 17% of global GDP (ahead of all of China at 16% of global GDP).
At the moment their confidence remains high as the chart below shows.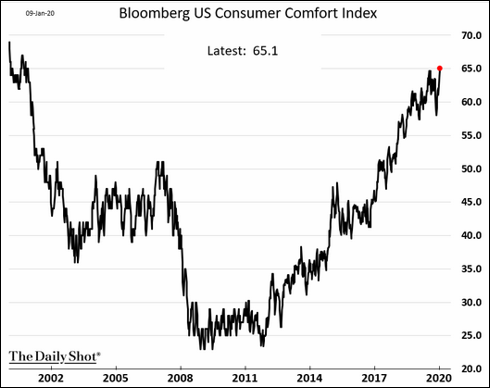 US Consumer Comfort Index
US consumers are paying less on debt payments and saving more. (Charts – courtesy of  Blackstone)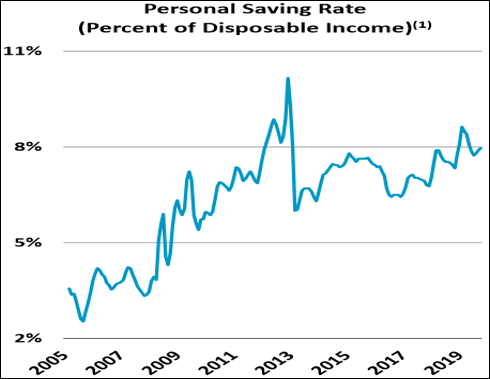 Unemployment is low and wage growth is circa 3.5%. Historically, it has become a problem when wage growth increases above 4% as this is a sign that interest rates will rise – so something we are watching. Mortgage loan applications are rising and houseing permits are at the highest they have been in this cycle – All good signs to show the US consumer is doing well.
In December the chairman of the US Fed Jerome Powell said something that seems quite significant. He said that he'd prefer to let inflation rise and hold above the central bank's target before considering future interest rate hikes.
"In order to move rates up, I would want to see inflation that's persistent and that's significant,… It happens to be my view that that's what it would take to want to move interest rates up in order to deal with inflation."
The Fed said in its summary of economic projections that in 2020 the Fed sees 2% GDP growth, 3.5% unemployment and a 1.9% core PCE rate, the central bank's preferred inflation gauge.
The size of the US Fed's balance sheet is very significant and a major factor to recent upward moves in global markets
Below is a chart showing the size of the US Fed's balance sheet (total assets, in millions). At the beginning of September total assets were $US3.76 trillion, at the end of December they were $US4.17trillion, an increase of over $US400bn in 4 months.
The Fed's balance sheet was steady for most of 2014 to 2018. Then, as the economy was improving, they started to reduce assets and increase rates. But this all changed in September 2019 where the Fed basically started QE4 (though they are not calling it that this time).
US Federal Reserve – total assets
This is a massive shift and is caused by the Fed buying short term bonds to lower short term rates and provide liquidity into the market.
There are currently more than 20 central banks globally in rate-cutting mode or back in QE (quantitative easing), which is bullish risk assets and equities in general.
It's not just the US Central bank that has done an about face and has started to pump money back in again. This chart shows others are doing the same and the forecast is this should continue in 2020.
Global Central Balance Sheets – 12 month change in bllions [Source – Blackstone]
M1 is bouncing strongly in Europe (see chart below) which is usually a leading indicator for stronger PMI's (Purchasing Managers Index).  Global PMIs have been in a recession, if they turn up that would be very positive for global growth.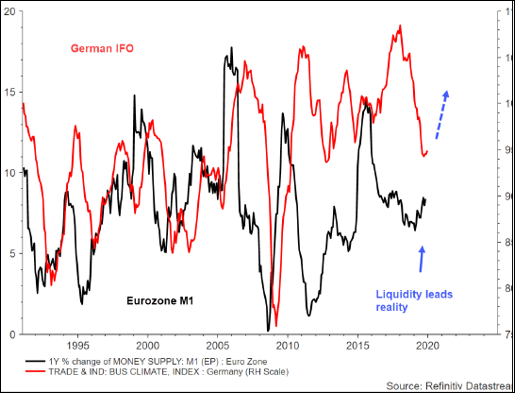 Money supply in Europe. 1 year % change of money supply M1 (black line, left hand scale) and German business climate index (red line, right hand scale). [Refinity Datastream / GMCP]
Could we start to see some inflationary signs re-emerge?
If the USD was to decline that would increase the price of imported goods in the US.
Below is the long-term USD to Swiss Franc chart (the pattern is similar for many US currency pairs)
Long term USD to Swiss Franc – GMCP
A declining USD would be very positive for commodity prices (as commodities are priced in USD they effectively become cheaper when the USD declines). Gold has a very high anti-correlation to the USD.
We are bullish commodities. It looks as though the CRB Index (this represents a basket of commodities from soft commodities, such as coffee and cotton, to oil and gas and metals) has put in a 4 year cycle low. This has trended down since its high in 2011
CRB Index (equally weighted) weekly chart  – GMCP
We are very bullish copper. The chart below shows a very bullish flag consolidation pattern. A break up out of that we would see as very bullish. The chart below compares US CPI to the copper price.
Copper (1 year % change, black line, right hand scale) US cpi (1 year % change, red line, left hand scale) – GMCP
It is also interesting to note that Feb-April is historically the strongest period of the year for copper.
Below is the S&P Metals & Miners weekly chart. It shows the 3 to 4 years cycle highs in this index. The high to the last cycle was 2008 and subsequent highs of 2011, 2014, 2018 with the next projection high to be 2021/22
S&P Metals & Miners weekly chart – GMCP
The above chart looks to be ready to break up. The Australian metal indexes are similar but the move up over the past couple of years has been stronger due to the large influence of the very strong iron ore prices in our major mining companies.
Billionaire Jeffrey Gundlach is the founder and CEO of DoubleLine Capital which has approximately $150bn in funds under management. Early in the new year Gundlach hosted a roundtable event. Information that came out of that:
Gundlach thought the chance of a US recession in 2020 was about 40% (in line with consensus), which has improved over the last few months (as the Fed has really loosened its balance sheet and bought a lot of short term bonds, forcing short-term rates down).
He also thought the US economy might just hold together until the US election and if that is the case Trump will be re-elected.
Could it be possible that Trump is smarter than we all think and he brought tariffs in, forcing the Fed to cut 3 times to keep the economy positive, which helps get him re-elected? He can also reduce the tariffs. He is also talking of tax cuts. Payroll tax cuts could really get consumers spending. (In the US, payroll tax comes out of workers' pay cheques).
David Rosenberg, the chief economist for Rosenberg Research and Associates, said his expectation for 2020 is that all central banks "will remain extremely accommodative" — including the U.S. Federal Reserve.
Rosenberg's view is that the economy is going to be weak, and deflationary pressures will intensify. That will keep central banks worldwide in accommodative mode as they find ways to ease policy even further.
Europe
We don't usually have much to say about Europe but we are reading lots more about changes occurring and seeing charts start to turn up. It appears that European markets may be about to perform strongly.
Just prior to becoming the ECB's President, Christine LaGarde noted that jobs and growth were more important than safe bank deposits. She has also ordered a review of negative interest rate policy. After the GFC, Europe pulled many wrong levers, including austerity. This left them in a lot of pain. The European banking system is seen as broken, thus the valuations are very low.
On 2 July 2009, Sweden's Riksbank (the world's oldest central bank) was the first central bank in the world to implement a negative interest rate. Then again in late 2014 the bank again lowered the repo rate pushing the linked deposit rate down to -0.75%.
On 19 December it has become the first to look to move away from negative interest rates. It increased its repo rate to zero from         -0.25%. This may be the start of rates moving away from the negative interest rate experiment in other parts of the world as well. The central bank did say it expected its repo rate to remain unchanged through 2021.
European interest rates are too low, Greek 10 year bond interest rate are now below those in the US… quite incredible and not sustainable. We think we have seen the lows to interest rates in Europe. Higher rates would be very bullish for European banks.
Allocations into European assets look very light and, with German pension funds apparently holding just 7% of their assets in public companies, there seems a lot of room for a re-rating.
This chart clearly shows that it looks like negative yielding debt peaked at around 50% of debt outside the US was negative yielding. This number has now fallen to 33%.
Negative yielding debt as a percent of global debt, ex US [Blackstone]
Emerging markets and China
In a risk-on market these should do well. Add a USD under pressure and under-priced stocks in these markets and these should do even better. Charts confirm that logic and look very bullish.
Australia
It is probably natural to assume that after such a strong year – the ASX All Ords Accumulation Index gained 24% in 2019 – the following year may be negative. However, that has not proven to be the case historically.
Since 1900, there have been 18 occasions when the Australian market returned 20-30% for the year. On 17 of those occasions, the following year also produced a positive return for the market. Also interesting is that the average return in each of those subsequent years was 18.5% (well above the 13.1% average return since 1900).
We are, in general, bullish on the Australian equity market.
One can argue market multiples are high, but they can go quite a bit higher in a low interest rate environment. We mainly invest in smaller high growth companies. The Small Ordinaries Index is trading on a one year forward PE of 16.6x which is a 6% premium to its five year average. Again one could see this much higher in the current low rate environment.
Property prices look to have stabilised and may move higher. We believe the resource cycle may have also bottomed and be turning up, if this occurs it should be a healthy boost to the economy, shares and confidence.
Iron ore prices appear likely to stay high. The farm sector will find it tough with an ongoing drought (which, it is estimated, is taking 0.2% off the GDP) and now bushfires.
Shane Oliver (chief economist and head of investments at AMP) has estimated the bushfires are most likely to take 0.4% from Australia's GDP (with a range of -0.25% to       -1%). Most of that hit should occur in the March quarter. A large rebuild program will boost things from the June quarter.
The latest GDP has the economy growing at 1.7%. The slow growth in 2019 with slightly higher unemployment and weak wages growth saw the RBA cut interest rates 3 times in 2019.
The imminent impact of the bushfires will put added pressure on the Reserve Bank for another 0.5% cut, this is what Shane Oliver expects. We have no strong view on this either way. Interest rates are low and these low rates should be stimulation enough, though recent events should keep downward pressure on rates for 2020 in Australia.
One significant effect that we expect recent events will have is to change the government's policies. The Federal Government was committed to a balanced budget. We think the bushfires and the huge criticism levelled at the PM and the Liberal government will see them use the bushfires as an excuse to move out of surplus and provide large additional stimulus to the Australian economy.
Interestingly, it has been well documented that Australia would most likely not have seen its 29 years without a recession if it were not for its large immigration. GDP per capita has been flat.
It is the migration of people to Australia that is keeping the GDP positive. At the moment, approximately 250,000 people per year are migrating to Australia. This is also one factor fuelling the main city property price increases.
The chart below shows Australian GDP per capita in USD for the last 20 years. From approximately USD20k in 1999 to approximately USD57k in June 2019.
It shows GDP per capita peaked in 2013 and we are still below that level. So, on a USD basis, our per capita GDP has declined.
Australian GDP in USD [ceicdata.com]
This decline is mainly due to the falling AUD. In AUD terms, GDP per capita is up from $67k in 2013 to $77k in June 2019, which is around 2.4% per year growth, making the real rate (after inflation) possibly 0.5% in AUD and strongly negative in USD.
Whilst our politicians infer they have done a wonderful job keeping Australia from recession, it is really only the immigration that has given us positive growth. Living standards are not rising for most and this is something to watch in the future.
A discussion paper has been released by Sustainable Population Australia which states that for each extra person Australia migrates, the government needs to spend well over $100,000 for public infrastructure alone (hospitals, roads, water, electricity, sewerage, police, etc). Discussion Paper
Meanwhile, the IMF has stated that spending "is not keeping up with population and economic growth".
We are not passing comment on the merits of Sustainable Population Australia's discussion paper but it's a topic that will gain further commentary, especially during negative times, and can impact the economy and confidence.
__________________________________________________________
The information herein is believed to be reliable, however may not have been verified by TI and TI assumes no responsibility for errors, inaccuracies or omissions. The information  is general in nature and has no regard to the specific investment objectives, financial or particular needs of any specific recipient. The Directors and/or staff of TI and/or their associates may have a personal interest in securities mentioned in this report. The information and opinions contained herein are not investment advice and should not be construed to be a recommendation to buy or sell the any of the Technical Investing funds, securities, commodities, currencies or financial instruments.