Set out below is an excerpt from our June 2019 quarterly update to investors.
Please note that the information is suitable only for wholesale investors, as defined by the Australian Corporations Act.
Interest rates are now a key driver of overall share market valuations and sentiment. Because global rates are so low, small movements are large percentage moves. The market's view of movements is having a large impact on valuations and stock market prices.
On 2 July the Reserve Bank cut official interest rates by 0.25 percentage points to a new all-time low of 1 per cent. This was the second consecutive month it cut rates. The bank said it would continue to cut interest rates if the unemployment rate didn't show any improvement.
Australian 2-year government bonds are just under 1% and the 10-year Australian government bonds are around 1.33%.
Australian interest rates used to trade mainly at a significant premium to US government bonds. However, they are now at a 70bps discount.
Differential between Australian and US 10-year Government Bond Yields [Bloomberg/RBA]
When the sharemarket started to get the jitters in October last year the US 10 year rates were over 3.2% and the view was they were heading to 4%. Note the rally int October in the chart below and the subsequent fall this year.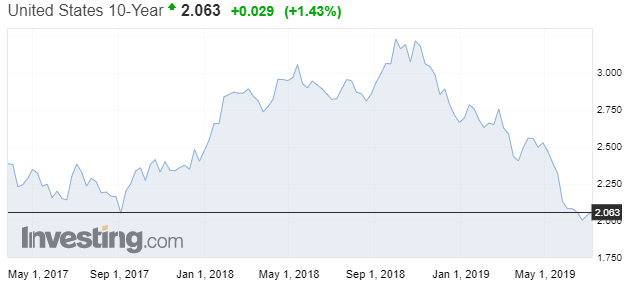 US 10-year yields [investing.com]
With rates rising in 2018, the sharemarket looked overvalued and, it seemed, was going to become more overvalued. Rising rates also affect house prices, profits, etc. The sharemarket started to fall sharply in Q4 2018 and ended up falling 20%. It was the reversal in the US Federal Reserve's outlook on rates that changed the view on rates. It also led to the sharp fall in the 10 year US yield from 3.2% to 2.0% today, bringing on this year's strong equity market rally.
S&P500 Index [money.cnn.com]
Historically, it has been the raising of rates that stalls the economy, changes valuations and results in a market crash. The belief at the moment is that rates are still going lower. Hence it is hard to see markets crashing in this environment.
In the short term, the rapidly falling yields look to be oversold and we expect a near tern small rally in yields, which may have some negative short term effect on equity markets.
However, cyclical models have lower yields on the larger time frames, so our view is that any near-term bounce would be a classic oversold bounce. Later into Q3 we would expect US yields to again sell off to new lows.
Lower US yields should have a negative effect on the USD. Our technical work also suggests the USD should trend lower over the medium term. For this to happen other currencies must rally. Most of Europe already has negative rates, how much lower can they go? So we expect the Euro to be one of the currencies that rally.
The world now has US$13tn of global bonds yielding negative interest rates.
Share of government debt with negative yields as of June 18, 2019
A falling USD is also something Trump badly wants. This should have a positive impact on commodities and particularly on gold, which appears to be breaking out on a long term basis.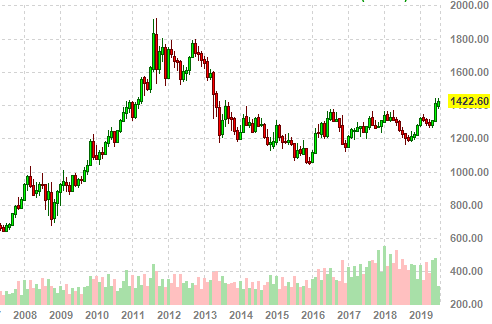 Monthly Gold futures chart Source Finviz.
Interestingly, in late June the US Federal Reserve completed its stress testing on the 18 largest US banks. They revealed that the banks had enough health, even under adverse stress test assumptions to return funds to shareholders. Straight away the four largest, Bank of America, Citigroup, JP Morgan and Wells Fargo announced they could repurchase $105bn of their own shares and increase dividends.
Market Forecast Update
In our December report last year we said we thought the first half of 2019 should see strong markets, followed by a sell off to a solid low later in 2019 or into early 2020. After that, we expect a rally back over the following years to new highs.
So the call for the first half of the year was spot on. Let's discuss our thoughts for the second half of 2019.
We must admit at this point that we are not confident on the second half call. We do see signs that markets could see some sell off again. There are some pockets of overvaluation in the markets, for example in some tech companies both in Australia and the US where valuations appear overly optomistic.
Valuations in the likes of Uber, Lyft, Zoom and many other newer listings in the US look far too high. In Australia some of the "tech darlings" also look extreme. Whilst there are very good companies in this area, valuations can easily pull back. The fund owns none of these and we do not believe our specific tech investments are expensive; in fact if their growth continues as we expect we think they will look undervalued.
Markets have run hard in the first 6 months of 2019 and may need time to pause. There are also growing signs that earnings growth is slowing and that "Trump's trade war" is having a negative impact globally. There are technical signs that we could see a sell off over coming months.
Against this we see areas of the market that are underpriced and companies that are performing well. We are also still uncovering several new opportunities that we want to invest in where we believe the company is undervalued and has a strong outlook. So again we think 2019 will be very much a stock-picker's market.
There is a lot of concern and worry around and there have already been large flows of funds out of the markets.
Equity fund flows [Haver, ICI, SunTrust, IAG]
Major market peaks usually come with large inflows, high confidence and a lack of worry. They also usually come with rising interest rates.
So whilst we do see some risk of a sizeable fall (similar to Sept-Dec 2018) we believe that any large sell-off will be met with buying and that, over the medium and longer term, share markets should trade higher and not enter a bear market. It remains our view that this cycle (barring unforseen black swan events) still has several years to run; noting that we may see some sizeable corrections within that trend.
Coming from a slightly different (more positive) angle, rates are very low and apparently going lower in the US and in Australia. If we add any positive news on the China/US trade scenario, markets could actually accelerate up in the short term. We think this is unlikely at this point, but not impossible, so we are mainly concentrating on individual investments.
In Australia APRA's decision to ease restrictions is the latest in a series of moves to recharge the ­housing market. Under new lending guidelines lenders will be able to offer larger loans. We are seeing signs of a stronger property market.
There should be a solid positive impact from the combination of back to back Reserve Bank rate cuts and the the government's $158 billion tax package (delivering low to middle-income earners up to $1,080 in immediate tax relief).
The next chart shows one reason why APRA has taken the pressure off lenders and the Reserve Bank has cut rates 2 months in a row.
Building approvals point to a fall in home building [ABS/AMP Capital]
In order to see a bear market return we will need to see a deep recession and the data just doesn't point to that occuring. Whilst there are plenty of comentators calling for one, the odds look quite low. Of course if central banks and governments make the wrong decisions and if Trump and China push too hard, that can change. But our view is that will not occur.
Ray Dalio said 18 months ago that he thought the risk of a US recession before the next US presidential election (November 2020) was 50%. But due to recent action by central banks and the lowering of rates he now sees the risk lower at 35%.
Trump's re-election will be dependent on the US economy. We see a low chance of a US recession over the next couple of years.
The next chart is one which Craig used in his recent presentations around Australia.
It shows the major bull legs in the US market since the 1920s. As you can see, most moves were around 13-15 years and 800-930% in gains. This last run is now up just over 10 years and 450%; looking short on both time and price.
Bull and bear markets in the US [First Trust Advisors/Morningstar]
Our best macro guestimate at the moment, based on a very big picture cyclical view is this:
The US and other parts of the world are currently going through a mid-cycle slowdown (looking back to the 1940s this is not uncommon to occur at this point in the cycle).
We should see
Some earnings slowdown and a sell off in H2 2019, then a good low for a rally up into a more significant top in later years, possibly towards 2022-24. We would expect to cash-up the fund into that top.
Falling interest rates, or at least low rates for an extended period.
More global stimulus by governments and central banks.
A declining USD which can again kick-start US earnings and turn up commodity prices.
The stimulus and low rates will have their effect, leading to another large increase in share-markets and an overvaluation in coming years. At that time interest rates will need to rise and the bubble will be pricked for a larger fall and the next bear market.
On this outlook we have around 3 to 4 years to make some strong gains and then exit for a while, noting there will be sizeable corrections within that period.
We will say again we think it is very much a stock picking market and that stocks with strong growth and high margins will be the areas that will do well. Many of these will see high volatility. As they are early in their growth valuing them can be difficult. However, they are the investments that should strongly outperform over time.
__________________________________________________________
The information herein is believed to be reliable, however may not have been verified by TI and TI assumes no responsibility for errors, inaccuracies or omissions. The information is general in nature and has no regard to the specific investment objectives, financial or particular needs of any specific recipient. The Directors and/or staff of TI and/or their associates may have a personal interest in securities mentioned in this report. The information and opinions contained herein are not investment advice and should not be construed to be a recommendation to buy or sell the any of the Technical Investing funds, securities, commodities, currencies or financial instruments.