Set out below is an excerpt from our December 2018 quarterly update to investors.
Please note that the information is suitable only for wholesale investors, as defined by the Australian Corporations Act.
Many analysts, newsletter writers and commentators are negative and cautious on 2019, which makes us a little more positive. At the beginning of 2018 most were positive and confident. With the recent 20% fall in global markets and 30-50% falls in many notable companies (Facebook down 44%, Fedex 45%, Apple 39%) valuations are far more attractive. But are they attractive enough?
In Australia the finance sector has been doing it tough for some years and housing prices are causing much debate. Resources led the economy and the share market to record times into 2011, but commodity prices have mainly slid since then; will 2019 see commodity prices rising or will a Chinese slow-down keep them low?
Trump adds another major variable in 2019; he is such a disrupter for the status quo, so his impact is closely followed. Tariffs, Russian collusion, government shut down, tax cuts, deregulation, law changes. Will his impact on markets be negative or positive?
Below we go through some fundamental data and technical charts to give an idea how markets may behave in 2019 and where we are looking to invest.
Today, markets are neither expensive nor cheap. In the current low interest rate environment, prices seem below average. The S&P500 is now trading near 14.9 times expected earnings, according to Refinitiv Data, compared with a multiple of 18 a year ago. It is now below its long-term average. The ASX200 is under 14 times.
On current data the US should not see a recession in 2019 or 2020, and possibly not for years (obviously dependent on some of the decisions that will be made over the coming year).
However, a lot don't agree with the data apparently. According to the latest CNBC Fed Survey in December, respondents saw a 23 percent chance of recession in the next 12 months. It is very surprising to us that nearly half of chief financial officers surveyed by Duke University in December said they expect a recession by the end of 2019.
Australia is not so clear; however, if we do have a recession (deemed to be the case after negative GDP growth for 2 quarters) it should be a mild one.
Australian economic data has been soft with September quarter GDP growth just 0.3% q-o-q, driven by very weak growth in consumer spending. This saw annual growth fall back to just 2.8%, well below the RBA's expectation for growth around 3.5%. Building approvals continue to trend down.
The latest Melbourne Institute Inflation Gauge points to a further fall in inflation into this quarter with its trimmed mean measure of underlying inflation up just 1.3% year on year in November.
There are growing thoughts that the next interest rate move in Australia will be down later in 2019. The above data is now known and reflected in housing and share prices. We are in a self-induced credit tightening cycle – not a credit crisis.
On the positive side, public infrastructure spending is rising and has further to go. Business investment plans for this financial year are pointing to a 4% gain – 7% for non-mining investment – and fiscal stimulus is likely. There is not high inflation or excesses and interest rates remain low.
It is now thought that US interest rates will not see the 4 rises in 2019 that markets had been expecting, and may not rise at all in 2019. Nevertheless, two rises is the Fed's current estimate (data dependent).
US earnings growth will slow in 2019, but is forecast to remain positive in both 2019 and 2020. China has also had credit issues, but they are addressing them, hence their economy slowing, but again growth remains positive.
The forecast for global GDP growth in 2019 is still solid at around 3%. The change in this forecast has deteriorated just slightly over the past 12 months according to this chart from the Financial Times.
US interest rates have shown a staircase rise over the past two years, unlike elsewhere in the world. Much of Europe is still at negative interest rates.
There is validity to global concerns. Europe still has many problems.
Germany's economy shrank 0.2% in the third quarter. However, there is the claim it was a one-time slump in car sales due to bottlenecks getting cars certified for tough new emissions standards.
Because we don't actually know how accurate the data China produces is, it is difficult to assess China. Many global companies are saying it's slowing. In Apple's recent results (a downgrade to their first-quarter's sales guidance) its CEO, Tim Cook, blamed an economic slowdown in China. Whilst he liked Apple's potential in China, it was China that was the reason Apple downgraded their expectations.
China's retail sales growth fell in November to its lowest level in 15 years and car sales fell last year for the first time in 20 years. Chinese shoppers now account for around one third of the world's US$300billion in luxury sales, according to Bain Consulting. The luxury goods company Tiffany has seen its share price almost halve in the last 5 months.
Numbers out on 14 January indicated China slumped in December. Exports were down 1.4% from the prior month and 4.4% from a year earlier. Analysts had expected a 2% rise. Imports fell 10% from last month and were down 7.6% from a year earlier. Analysts expected a rise of 4.5%. It appears the trade tariffs with the US are having an effect.
China is expected to set a growth target of 6-6.5% for 2019, down from the "about 6.5%" target for 2018.
More Chinese stimulus is on its way to boost the economy. In recent days the People's Bank of China injected a record $84bn into the country's banking system in a bid to boost liquidity and increase lending. China's finance ministry has pledged to slash taxes and reduce the burden on small firms as part of a new stimulus drive. China also plans to step up fiscal expenditure this year
Whilst on China…China's technology companies have also been smashed on the back of the "US trade war".
JD.com is a Chinese e-commerce company. Based on data from its Nasdaq listing, it has sales of US$64bn and a market cap of $31bn. It has the largest drone delivery system in the world. Its share price is less than half what it was at the start of 2018 and is back to levels of 5 years ago.
We are looking at some of these companies as a possible trading buy, though with the Chinese economy decelerating we are only watching at this point, and are cautious. Some charts look to be trying to bottom from long down trends, if we see these start to trend up and we have available funds we may buy.
Fundamentally, it is hard to know which way 2019 will go. We know that markets try to pre-empt the future. If they think the future will be negative, they will try and price that in and vice versa. Recently, the sentiment has been incredibly negative. The belief was the Fed isn't listening and will lift rates too much. There was negative news everywhere, if those negatives or other surprises pan out the market can go lower.
However, if investors believe the Fed will no longer raise rates, that china is stimulating, that there is a relaxation of trade tension in China and that growth remains, then markets could rerate quite quickly on the upside.
Pre-Election years are also very bullish. Since WWII there was just 1 out of 18 pre-election years (2015) which ended in negative territory. Presidents usually try and create a favourable economic environment to be re-elected.
We have spoken of Mohamed El-Erian before, we like his analysis and thinking.
"This concept that a slowdown in the U.S. means recession or means a financial crisis — that's just wrong," said El-Erian, chief economic advisor at Allianz.
"What happened in 2008 was very special. It's because the banking system was at risk. And the minute you put the banking system at risk, you put the payments and settlement system at risk. We're not there,"
El-Erian said while there may be small pockets of economic weakness, overall the economy is doing well.
TECHNICALLY
Have we just seen a 20% correction in an ongoing bull move? Or is this just the first leg down with more to come?
We can paint technical arguments to support both cases. However, our general, most likely view, for the moment, is that markets should rally for a number of months and then come off again later in 2019 or into early 2020. At that stage, it would be quite normal to see the US S&P500 pull back a 38% retracement of the 2009 to 2018 run.  That would see its price around 2090 points and be around a 30% fall from its high in September. From there, markets would commence the next bull phase.
If this were to occur, we think the ASX200 would fall a similar percentage. Refer to the following pages for more detail.
There should be lots of opportunities around. Also, we believe some sectors can perform well in 2019 (unlike 2018 where most asset classes fell) and specific stocks should have good moves. It will be a stock-picking market.
Technical review of US and Australian Indexes
Below is a weekly chart of the Dow Jones Industrial Average since the mid-1930s (on a logarithmic scale). It puts in perspective the pullbacks that occur over the years. 20-odd percent pullbacks are common. The orange line is the 200-week moving average of price.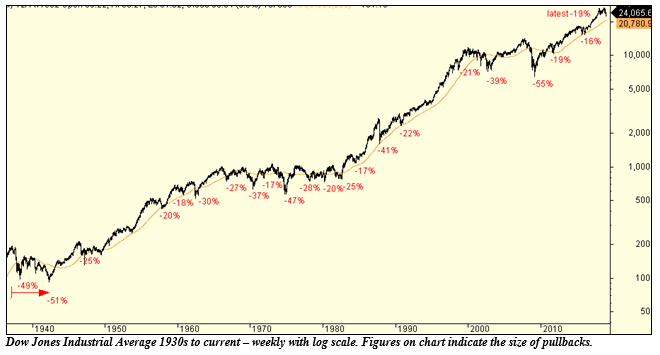 Points to note on the S&P500 chart above:
The year 2000 high at approximately 1,500 points and the 2007 high at a similar level.
After the 2009 low, there was a 5-wave structure up. Note the increased volatility (monthly bar size) at the 2018 high. Note the new high that failed and the break of the red trend line.
The 50% retracement level (blue horizontal line) of the whole move up was a significant low – this is common and gives further validity to the high being at significant resistance.
If we are now in a "bear market", a typical pullback would be around the 38% level or 2090 on the S&P500 and I think the worst case would be the 50% retracement of the move up, which is also the 2016 lows at 1805 points.
However, markets don't generally go down in a straight line.
The recent December lows
The S&P500 fell 20% in 3 months; one of the fastest falls of that size in the last 70 years.
The panic into the 24 December low was extreme. Around the last week of December there were many extremes of fear and panic, some of the highest ever recorded.
The AAII survey of individual investors in the US showed over 50% were bearish (first time in 5 years).
According to Lipper, investors took $94billion out of equity funds during four weeks in December; more than double the previous record for the four weeks to 17-8-2011.
Get me out panic
The chart below shows the premiums that were being paid at the end of the year for Put Options (options that that should go up in price if the market goes down). Buyers pushed these options up in price  and were prepared to pay premiums which were the third highest in the past 15 years. They were approaching the levels recorded near the GFC lows.
There was huge fear and panic into late 2018. Many technical measures showed record levels of fear and negative sentiment.
An important question now is: Have we seen a low for this fall or is there more downside to come in the short term? An indicator that a significant low has been put in is strong buying after all the panic.
On 26 December, 504 of the total 505 stocks making up the S&P500 closed higher than they did on the prior trading day – a record.
In the first part of January we saw 2 so called 90% up days: days where both 90% of stocks go up and 90% of the market volume is in those up stocks.
So, these days were indicators that the market should rally after the panic and that the low we've seen should be the low of the pullback.
What would typically occur next?
Short term the US market has rallied hard – gaining 10% in 10 sessions. Therefore, a (smaller) pullback now would be normal.
Following a possible small pullback, and given the extremes of fear and panic discussed above, we should then see a rally of at least a couple of months. Such a sizeable fall could even lead to a larger rally.
After the short-term rally – what then?
In the medium-term, we expect a 3-waves-down pattern ending in late 2019 or early 2020. A 38% correction of the 2009-2018 rally would result in around a 30% fall in the S&P500 (recent lows were off 20%) to the 2050 point level.
Note that the 2007-08 fall was a 5 wave fall of 50% lasting 18 months. Whilst anything is possible, we are not expecting that to be repeated now (that was a global financial crisis, not what we expect now).
Since 1900, the average decline of the Dow Jones Index in a cyclical bear market was -37%
We are expecting this time to see an initial fall (wave a) which we have most likely seen and then a rally which should be occurring over coming months (wave b). Then another selloff (wave c) maybe later in 2019 or early 2020 for a final low before the next Bull leg commences.
Could it be better than this? Of course. Data at the moment indicates the US is some time off a recession. In fact, the leading indicators are showing no signs of a recession. The yield curve, wages growth and leading economic indicators all indicate that there won't be a US recession and they lead by around some 20 months.  So, at this point a recession still looks many years off. If that proves correct then the pullback could be less. As shown in the chart on page 8, falls of 20% or so are quite common over the past 80 years.
Next we look at the Australian market situation.
ASX 200
Note that the S&P500 had its 2000 and 2007 highs at similar levels. Australia outperformed into 2007. However, since the GFC the ASX200 has strongly under-performed. The US market was led by global companies, especially technology companies. Australia was dragged down by financials, resources and a lack of strong leaders.
This is quite a bearish looking chart and will probably really struggle over the coming period. As for the US, we would expect a three-wave decline (having just had the first wave) with the final low reached in late 2019 or early 2020. At that stage, a pullback to the 38% or the 50% retracement level (5125 and 4700 points respectively) would be quite normal. 4,700 would be about 26% from its August high.
Additionally, the breakdown in the 10 year Australian Government Bonds below 2.4% indicates the economy is struggling. Lower bond yields should put downward pressure on the AUD.
______________________________________
Where to invest in 2019?
We think it's going to be a market in which stock picking is very important. Specific opportunities in shorts and longs, at the right times, will do well. Gold is looking interesting, but like commodities may need some time. If markets push too high then we will look to reduce some exposure, so we can add it back if markets come off, some more trading may be warranted if the liquidity is there. We are also looking to reduce the small number of non-high conviction holdings for opportunities in pullbacks.
We still like select strong growth companies that are growing due to their specific business opportunity but where the market is not as yet pricing that growth or success situation (not linked to the economy, retail or housing).
We are very bullish commodities, but maybe need to wait a little longer.  The world demand is increasing and there are simply not enough large discoveries being made. Resource grades are falling and there is less money going into exploration. There is more regulation and it takes a long time to get mines up and producing. As a result, a big rally in commodity prices and miners will definitely occur – it's just a question of when.
There is work to suggest that commodities prices work to a 30-year cycle with bear markets in commodities tending to last 8-16 years. Charting work suggests that late 2019 to early 2020 could see a final wave 5 low. See chart below.
From this work, and from discussions with global traders, it does appear that it may still be a little early – we currently think late 2019 and early 2020 is when the next bull commodity leg will start.
That timing would tie in with a weaker second half of 2019 and a final dip before prices move higher. Stocks can move ahead of that based on permitting, discoveries, commissioning, etc. However, once these all start to move, we think it could be quite significant. We have exposure to some specific situations but are monitoring for a more aggressive commodity shift in the portfolio.
We also think emerging markets look very under-priced (emerging markets often have a strong correlation to emerging companies' performance in Australia as it's a sign of risk-on or risk-off).
The fund has what we believe are some exceptional disruptive technology investments, we were too early, but some of these are now delivering and the others are close. With continued results these shares will get rerated. When economies get tough, if there are businesses performing against a slowdown they will get discovered and their prices will go higher.
Whilst 2019 will see some ups and downs we see it as a stock picking environment. Certain stocks and sectors can still perform and we believe that some stocks can deliver strong growth but are not priced for this. We believe that the fund owns quite a few such stocks and that they should still see strong share price gains.
We are focusing on the stocks that can deliver outside economic conditions; stocks that are not dependent on retail sales and housing; businesses that have a unique offering which will be highly sought after.
__________________________________________________________
The information herein is believed to be reliable, however may not have been verified by TI and TI assumes no responsibility for errors, inaccuracies or omissions. The information  is general in nature and has no regard to the specific investment objectives, financial or particular needs of any specific recipient. The Directors and/or staff of TI and/or their associates may have a personal interest in securities mentioned in this report. The information and opinions contained herein are not investment advice and should not be construed to be a recommendation to buy or sell the any of the Technical Investing funds, securities, commodities, currencies or financial instruments.